Hot Lunches & Milk Program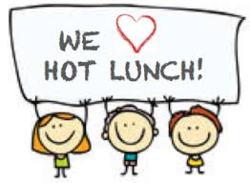 Our Hot Lunches are offered most Mondays that school is in session. The Monday lunch program provides students with some different alternatives and helps support our community businesses. Organized through our teachers, our Hot Lunch program offers hot lunches on Monday's. The hot lunch online order system requires a small amount of setup time at the beginning as you must register each child you have attending our school prior to ordering hot lunch. Once the initial setup process is complete, your hot lunch orders for the remainder of the year should be quick and simple. Questions? Please email our Hot Lunch committee at stephanie.cardinal@rdcrs.ca or corinne.fontaine@rdcrs.ca 
Here's how to get started:
Click on "Click Here to Register."
Enter Access Code MTHL
Complete the rest of the registration form. (Including your email address ensure you receive reminder emails about hot lunch order deadlines and your child's hot lunch order for the upcoming week).
Click the "Register Now" button.
Follow the instructions to add each child in your family who attends École Mother Teresa School.
Once your child(ren) are registered, click on "Orders."
Proceed to order hot lunch and/or milk for your child(ren).
PayPal:
We only accept hot lunch order payments through PayPal (www.paypal.com).  
**No cheque or cash payments will be accepted at any time.  
You can either pay with a credit card as a PayPal guest (Visa/Debit, Mastercard or AMEX), or set up your own PayPal account.  
There is a $0.30 and 1.6% fee each time you check out. Example: on a $50 order the fee would be $1.10.
The hot lunch online order system requires a small amount of setup time at the beginning as you must register each child you have attending our school prior to ordering hot lunch. Once the initial setup process is complete, your hot lunch orders for the remainder of the year should be quick and simple.
***Please Note: Should you experience any issues with your PayPal account, you must contact PayPal directly to solve the issue.
THE LUNCHBOX-Commercial Kitchen
Our school is fortunate to share the services of a commercial kitchen, THE LUNCHBOX, with École Fox Run School that provides hot lunches to students Tuesday to Friday every week. A pre-order form for each month is attached to the school's Week at a Glance (WAAG) when it is released at the end of the month for Grades 4-6 and a paper copy sent home in your child's agenda. We strongly encourage students in Middle School Grades 7-9 to pre-order their meals daily to help speed up the lunch process and ensure there is enough food. Students may go down to the kitchen on a daily basis to place an order. The kitchen charges reasonable prices for lunches. The Lunchbox is an independent business operating separately from the school.
Please note that the kitchen will NOT be opened on days when the buses are CANCELLED for either school division. 
For more information or questions about THE LUNCHBOX please contact:
Kara Atkinson
Thelunchboxladyco@gmail.com
Phone: 403-887-0491
Cell Phone: 403-872-3398
Milk Program
Milk orders will be placed in conjunction with Monday Hot Lunch program online. Chocolate and white milk are available for purchase. The cost is $1.00 per day, this cost will vary each month depending on the number of school days in the month.
You have the option of purchasing milk either every day or three times a week.