Back to staff directory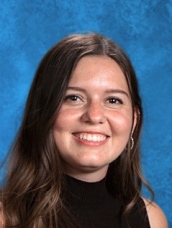 Grade 7-2 Home Room English
Bonjour tout le monde! My name is Taylor Houle and I am incredibly excited to be the newest staff member at Ecole Mother Teresa School, replacing Mme Porterfield on maternity leave. I will be joining the middle school team, teaching both in French and in English. I am a new teacher to the profession, having graduated from the University of Alberta Campus Saint-Jean in 2018. Last year, I taught at a junior high school in St. Albert, and I am looking forward to making Sylvan Lake my new home this year. This is my first time moving away from home, having been born and raised in the Edmonton area.
I LOVE all things Harry Potter and Disney. My favorite Harry Potter book is The Deathly Hallows, and my favorite Disney movie is Beauty and the Beast. Two of my newest hobbies, both which I took up during the coronavirus lockdown, are sewing and gardening. I am actively involved in my parish back in Edmonton as one of the leaders of our youth choir and a member of our World Youth Day Group. I enjoy watching sports (go Oilers!), but playing them is a whole different story!
I am really looking forward to meeting everyone soon and learning alongside my students. Wishing everyone a blessed school year! À bientôt!